Geopolitical Atlas of the Oceans
Borders, Energy, Shipping, Piracy, Fischeries and Environment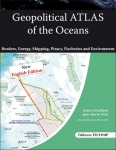 Authors :
ORTOLLAND Didier
,
PIRAT Jean-Pierre
9782710811640
trade paperback 210 x 297 mm 352 pages
Publication date :
March 2017
Paper version
160 $
144 €

Add to cart
Special Offer before publication - December 15, 2016 : € 144 / $US 160
Price after December 15, 2016 will be : € 180 / $US 200
Richly illustrated with outstanding maps, this book is the first of its kind to address all major issues related to the oceans as well as questions dealing with delimitation of maritime boundaries in territorial seas and areas under juridiction (exclusive economic zones, protected fishing zones, protected ecological zones and continental shelves). It analyzes maritime conflicts or disputes such as those in the Western Pacific, in the South China Sea, in the Mediterranean Sea, in the Gulf of Guinea, in the Bay of Bengal, in the Arabian Gulf, etc.
Threats to the environment and mitigation measures are thoroughly discussed in chapters focusing on the regime of the Area, deep-sea hydrothermalism, underwater cultural heritage, governance of the Antarctic and of the Arctic.
This edition includes updates on settlement of maritime disputes and new chapters on piracy, shipping and underwater cultural heritage. This edition analysis the process of extension of continental shelves which resulted in an increase of maritime conflicts since 2009.
This second edition includes more than 100 maps. Written by a team of experts, the original work presented in this Atlas provides an unprecedented analysis of geopolitical issues related to the oceans.
Contents :
Foreword by Jean-Pierre Lévy
The maritime spaces. The delimitation of maritime spaces. The Atlantic Ocean. The Baltic sea. The Mediterranean. The Caspian Sea. The Caribbean Sea and the Gulf of Mexico. The Indian Ocean. The Red Sea. The Persian Gulf. The Pacific Ocean. The Arctic Ocean. The Antarctica. Extension of the continental shelf. Inter oceanic sea lanes. Maritime transport. Piracy at sea. Mineral resources. Underwater hydrothermalism.