Back to list
Systèmes électrotechniques
Applications industrielles. Problèmes et solutions
Authors :
CARON Jean-Pierre
,
HAUTIER Jean-Paul
ISBN :
9782710807551
trade paperback 16 x 23 cm 288 pages
Publication date :
December 1999
Paper version

Add to cart 45 $ (41 €)
Around the book

Browse the book
• Link 1
Une douzaine d'exemples suffisamment diversifiés permettent au lecteur de se familiariser aux nombreux domaines de l'électrotechnique et de l'électricité industrielle. Cet ouvrage s'adresse aux élèves ingénieurs, aux étudiants de maîtrise et de DEA, aux candidats des agrégations, aux ingénieurs en activité désireux de rafraîchir ou compléter leur formation ainsi qu'aux enseignants des classes de BTS et d'IUT souhaitant une évolution de leur enseignement.
Contents :
1. Suppression des vibrations d'un contacteur. 2. Transformateur industriel monophasé. 3. Cascade triphasée : transformateur redresseur contrôlé. 4. Poste de conversion CCHT. 5. Courant de défaut sur réseau de distribution HTA. 6. Modélisation électromécanique d'un moteur asynchrone monophasé. 7. Traction ferroviaire à machine asynchrone triphasée. 8. Commande vectorielle d'une machine asynchrone. 9. Arbre lent synchrone pour ascenseur. 10. Commande d'axe à liaison élastique. 11. Dépollution harmonique par filtrage actif. 12. Modélisation d'un convertisseur à potentiels distribués. Bibliographie. Index.
Same field books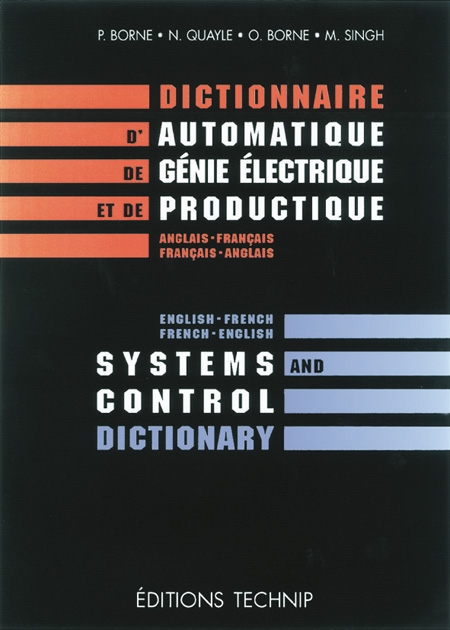 Systems and Control Dictionary. English-French, French-English
1998 BORNE Pierre, QUAYLE Nigel

Add to cart 171 $ 143 €