Back to list
Automatisation des processus dans l'espace d'état
Authors :
BORNE Pierre
,
DUFLOS Emmanuel
,
VANHEEGHE Philippe
ISBN :
9782710808794
trade paperback 16 x 23 cm
Publication date :
January 2007
Paper version

Add to cart 30 $ (28 €)
Around the book

Browse the book
• Link 1
Cet ouvrage présente les aspects fondamentaux relatifs à la modélisation, l'analyse et la commande des processus décrits dans l'espace d'état. Les diverses descriptions canoniques sont présentées ainsi que les types de commande : placement de pôles, commande optimale, découplage, systèmes à plusieurs échelles de temps, commande en mode glissant et backstepping. L'analyse des propriétés de commandabilité, observabilité et stabilité est étudiée dans les cas continus et discrets. Dans la seconde partie de ce livre, de nombreux exercices d'application sont proposés, couvrant l'essentiel des problèmes rencontrés dans la pratique. La solution de chaque exercice est détaillé pour permettre au lecteur de mieux comprendre et de mieux assimiler les notions fondamentales présentées dans la partie cours. Cet ouvrage s'adresse aux étudiants des premier et second cycles de l'enseignement supérieur ainsi qu'aux techniciens supérieurs et ingénieurs en activité.
Contents :
Cours. 1. Représentation dans l'espace d'état. 2. Intégration de l'équation d'état continue, passage à la représentation échantillonnée. 3. Commandabilité, observabilité. 4. Placement de pôles par retour d'état. 5. Découplage. 6. Commande optimale. 7. Processus à plusieurs échelles de temps. 8. Stabilité des systèmes décrits dans l'espace d'état. 9. Commande en mode glissant. 10. Commande par backstepping. 27 Exercices corrigés. Bibliographie.
Same authors books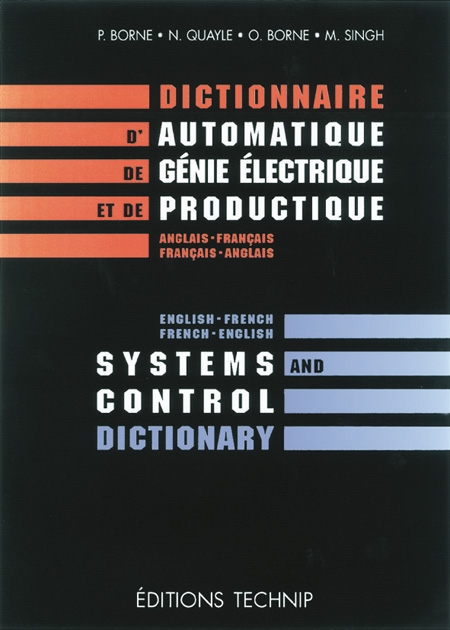 Systems and Control Dictionary. English-French, French-English
1998 BORNE Pierre, QUAYLE Nigel

Add to cart 171 $ 143 €
Same field books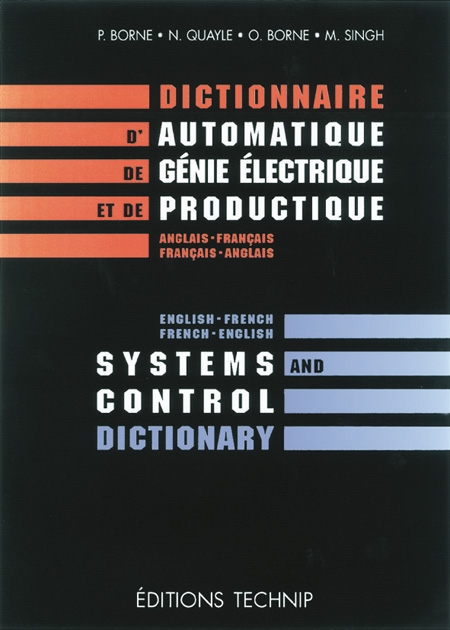 Systems and Control Dictionary. English-French, French-English
1998 BORNE Pierre, QUAYLE Nigel

Add to cart 171 $ 143 €