Back to list
Identification et commande numérique des procédés industriels
(Automatique)
Authors :
BEN ABDENNOUR Ridha
,
BORNE Pierre
,
KSOURI Mekki
ISBN :
9782710807988
hardcover 16 x 24 cm 256 pages
Publication date :
May 2001
Paper version

Add to cart 60 $ (55 €)
Around the book

Browse the book
• Link 1
Cet ouvrage présente les éléments théoriques et pratiques nécessaires à la mise en œuvre d'une commande numérique à caractère adaptatif. Des exemples de mises en œuvre réalisées par les auteurs sont détaillés : la commande adaptative d'un refroidisseur à grilles de clinker d'une cimenterie, la commande prédictive de la régulation du poids de panneaux MDF et la couche de supervision des algorithmes de commande basée sur la compétence et le savoir-faire d'un expert utilisant la logique floue. Une mise en œuvre est réalisée sur des exemples d'applications pratiques.
Contents :
1. Représentation des systèmes linéaires, monovariables, perturbés et à temps discret. 2. Identification paramétrique des procédés. 3. Commande prédictive adaptative. 4. Mise en œuvre d'une commande à caractère adaptatif. 5. Supervision utilisant la logique floue pour une boucle de commande intelligente. 6. Insertion d'une couche de supervision floue dans la boucle d'une commande numérique. Annexes : Calculs relatifs au test du résidu instrumental. Calculs relatifs à la séquence de prédiction par l'approche matricielle. Calculs relatifs au polynôme caractéristique en boucle fermée. Bibliographie. Index.
Same authors books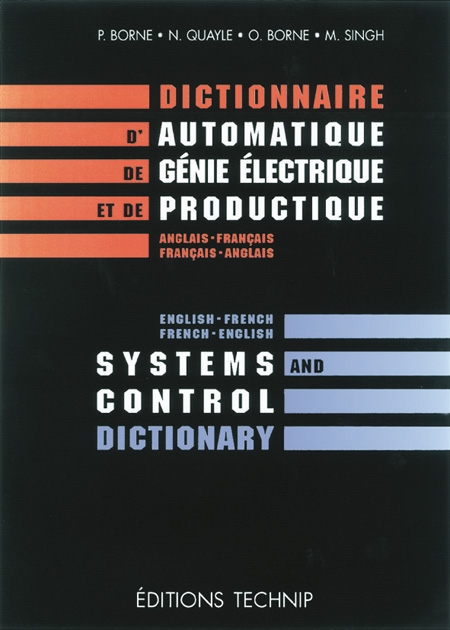 Systems and Control Dictionary. English-French, French-English
1998 BORNE Pierre, QUAYLE Nigel

Add to cart 171 $ 143 €
Same field books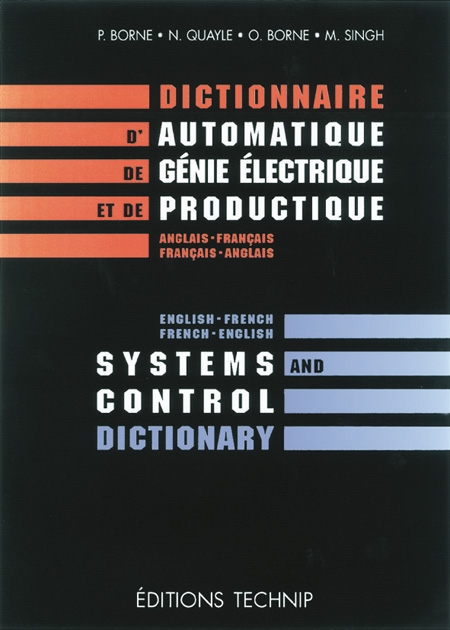 Systems and Control Dictionary. English-French, French-English
1998 BORNE Pierre, QUAYLE Nigel

Add to cart 171 $ 143 €